In Part One you read about my ambulance and emergency department experiences.  I look upon the next chapter as my going beyond the healthcare experiences of my youth.  My pediatrician is the only medical doctor I recall from my childhood.  It was the era of awe and house calls.  Everybody respected the doctor and when he arrived in Apt. 9E we were no different.  My mother and father tripped over each other making sure Dr. E was comfortable and we always followed his instructions to the letter.
NYPresbyterian Queens is a teaching hospital, that is always interesting. Difficult to adapt to is the replacement of doctors with physician's assistants (PAs) to make moment to moment decisions and pop in like they own place.  Some of the interactions with PAs were great. And then there is also the arrogance of the PAs who are actually doctors from other countries who either chose to not do what was necessary or were unable to complete the requirements.
One PA in particular, a young woman, came to my bedside more than once to find out what was going on or explain things.  Unfortunately, she was atypical.
Staffing was a significant issue.  There was a day when RNs had ten patients each on a post op unit.  There was a day Nursing Assistants had 12.  Professionals and Paraprofessionals cannot provide good care under these conditions.  At one point I complained to my surgeon's partner about the nursing staffing and he acknowledged it and said he had written about it.  The next day, the RNs had six patients.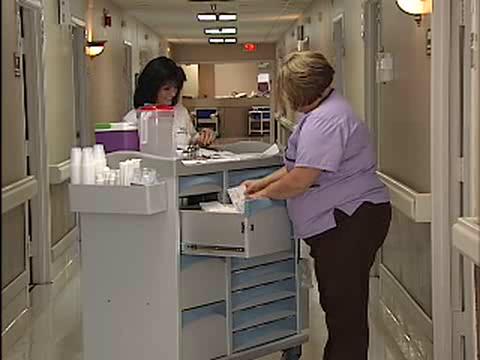 What struck me as troubling and fixable was the assignment of nurses and certified nursing assistants (CNAs) to patients.  Part of the problem is the three twelve hour shifts the RNs work.  It would be nice if nurses were assigned for their three shifts to the same patients.  A reduction in errors would no doubt be accompanied by more comfortable patients.  Consistent assignment of CNAs who do the most intimate things to and with patients would also be of comfort to patients.
Nursing is a profession with which I am quite familiar.  My professional career brought me in contact with "staff nurses," nursing supervisors and nurse managers.  Some of my best friends were the latter over 12 years in one hospital.  To say the job is difficult in an inner city hospital is an understatement. In addition to the staffing issues the work requires focus and precision when passing meds, compassion when speaking to and listening to patients, and decision making prowess when squeezed between patients and PAs and doctors.  These men and women, on the frontlines, truly carry lives in their hands.
While the times have changed the medical profession has been slow to move forward.  Patients' privacy seems more of a concern (there is law) than listening to what they say.  If I answered the question about back pain once, it must have been at least 25 times in 10 days.  My answer was always the same, "I don't have back pain, I never did, the pain was in my legs, that's why I couldn't walk."  
The biggest exception to this difficulty was the surgeon I chose; calm, soft spoken, patient, attentive and skilled, this physician was not at all like any surgeon I have ever encountered.  It was wonderful to be heard.  He was kind like Dr. E the pediatrician had been.  He exuded an air of confidence and one of kindness that was of inexplicable value to this patient.
The anesthesiologist, the person whose job it was to keep me alive during surgery, was another kind person He was concerned about my wellbeing and was able to smile and laugh and give me confidence in a total stranger in minutes.
When they got me up the morning after my surgery, barely 16 hours later, I stood without any pain for the first time in so many months; I mean no pain.
Walking in a walker was not how I saw myself but the PT and my supportive family got me going in spite of my fear.
So now it was on to rehab.